Fire offering : Ogoma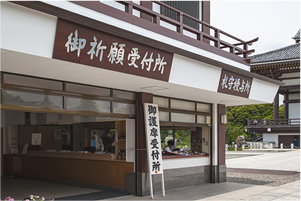 Ogoma reception office
Times of day, number of sessions
There are six sessions daily between 9:00 a.m. and 4:30 p.m.
Note : The schedule varies for the year's end and new year's.
Price
5,000 yen, 10,000 yen, and other
Note:The price is dependent on the size of protective tablet received during the Ogoma prayer ceremony.
Ceremony Participation Request
Advise the attendant at the Ogoma reception office (to your left while facing the front of the Main Hall) to place a request for Ogoma.
Obtain the special request form and fill out your name, age, and prayer request. Please follow the example provided.
Return the request form with the payment (5,000 yen, 10,000 yen, other).
Note:
Participation requests are closed 10 minutes before Ogoma starts.
Payment is by cash (Japanese yen) only. Credit cards and digital payments are not accepted.
Ogoma Ceremony Participation

Enter the Main Hall and wait quietly. Please remove footwear and place in a plastic bag.
The Ogoma prayer ceremony lasts approximately 20 minutes.
After the Ogoma prayer ceremony ends, listen for your name to be called. Please make sure to pick up your Ogoma tablet.
Note:
No loud talking or running.
Quietly observe while seated on the tatami floor or the seating in back.
No photos during Ogoma prayer service.
Do not enter or leave during Ogoma prayer service.
Copyright© Nishiarai Daishi Sojiji. All Right Reserved.